Canva
The average American wedding costs between $10,000 and $28,000. Some couples will spend up to $100,000 for a lavish event—or more.
But the cost of a wedding doesn't only depend on the couple and their tastes: It also depends on where you live, and where you intend to get married.
To find where wedding costs are most and least expensive, SmartAsset examined wedding cost, income and savings data for 344 metro areas. The results may make you think twice about where you choose to get married.
Key Findings:
Couples may still need to save for over six years for the cheapest weddings. The locations with the cheapest weddings may still take residents of those places over six years to save for. Despite having some of the cheapest wedding costs of all, places like Beckley, WV, Gadsden, AL, and Pine Bluff, AZ metro areas take those communities' residents longer than six years to save for the average local wedding.
It can take as long as nine years to save for the average U.S. wedding. In some places – like in Goldsboro, NC, Binghamton, NY, and Cleveland, OH metro areas – it takes nearly nine years to save for a local wedding without any financial help. It may take half as much time in other parts of the U.S.
Hawaii, California and the New York metro areas are home to many of the priciest nuptials. Honolulu, San Jose, Oxnard, New York City and Los Angeles rank among the top 10 most expensive weddings. The highest median wedding costs come in at nearly $28,000.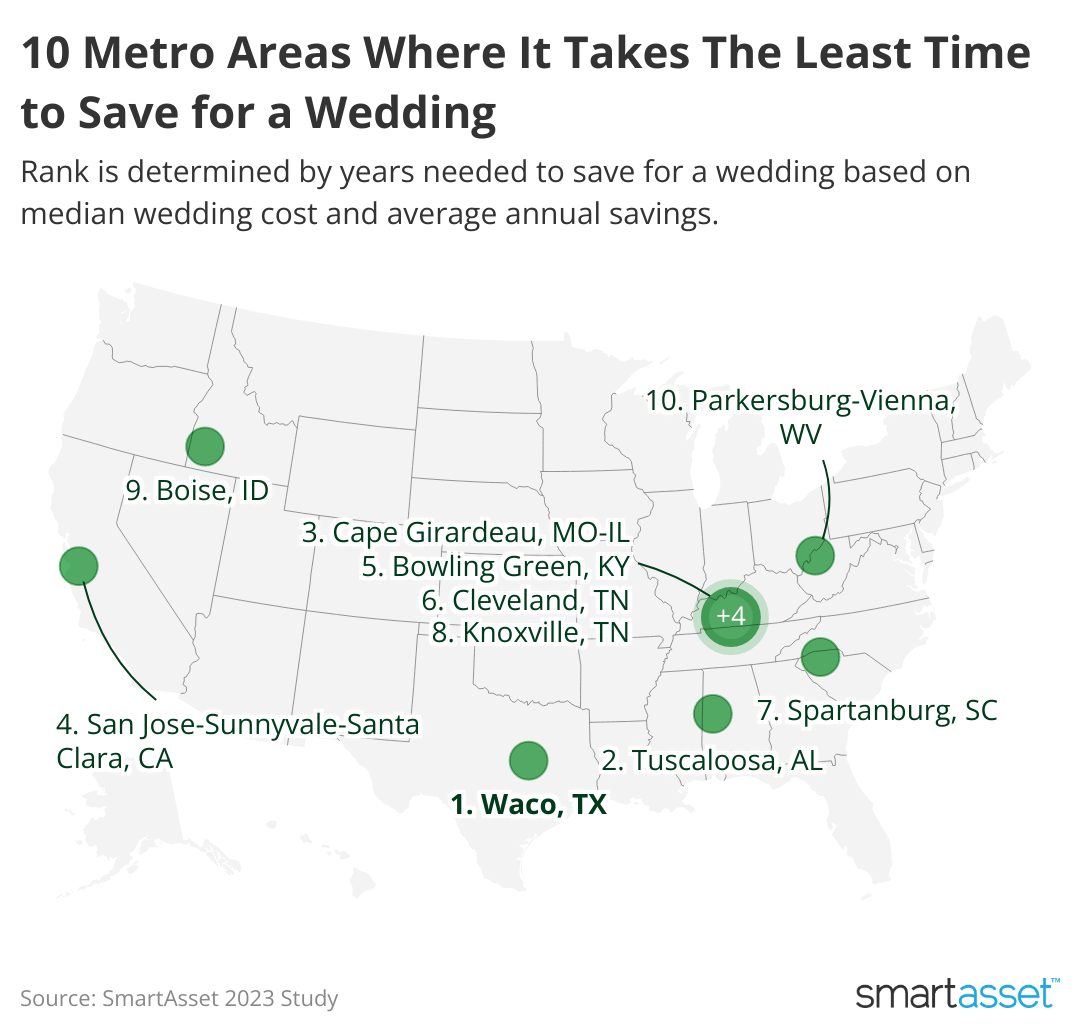 SmartAsset
Most expensive weddings
1. Honolulu, HI
If you're aiming for a destination wedding, Honolulu will cost you – $27,797 to be exact. While you can certainly aim for lower or higher, this median wedding cost was the highest of the bunch. With a Honolulu income, this will take a couple about 7.78 years to save for.
2. San Jose, CA
San Jose households earn the highest median income at $148,845, giving residents an edge when it comes to saving for a wedding. The average wedding cost of $27,378 is just a few hundred dollars shy of Honolulu.
3. Oxnard, CA
The Oxnard-Thousand Oaks-Ventura metro area, located up the coast from Los Angeles, ranks 266th overall, as it takes 7.10 years to save for a $26,991 wedding. Residents here would have to save an average of $3,797 per year.
4. Bridgeport, CT
Couples in the Bridgeport-Stamford-Norwalk area face an average wedding cost of $26,719. The cost of living in the Bridgeport area is about 29% higher than the average American metro, while the median household salary is $107,261.
5. New York City, NY
The NYC metro area unsurprisingly has a costly average wedding at $26,206. When compared with the top four most expensive places for a wedding, New Yorkers would have to save less ($3,323 per year). However, it will still take them longer – 7.88 years to pay for that wedding.
6. Los Angeles, CA
In general, the Los Angeles-Long Beach-Anaheim metro area costs 52.5% more than the average U.S. city. A wedding costs $25,713, and it will take 7.91 years to save for this milestone on an $87,783 household income.
7. Seattle, WA
It takes 6.40 years to save for the average $25,639 wedding in the Seattle-Tacoma-Bellevue metro area. Living in Seattle is just as expensive as Los Angeles, with a 52.2% cost of living premium.
8. Philadelphia, PA
Couples in the Philadelphia metro area have low median salaries when compared with other expensive places for weddings. This puts savers at a particular disadvantage. It takes 8.09 years to save for a $25,448 wedding on an $85,127 salary. Only 10 metro areas have longer savings times.
9. Washington, DC
The Washington-Arlington-Alexandria metro area ranks 40th for the time it takes to save for a wedding – 5.75 years. While a wedding here costs just a few dollars shy of $25,000, this metro area has the second highest median household income ($117,417).
10. New Haven, CT
The average wedding in the New Haven-Milford metro area costs $24,759. With a relatively low median household income of $80,113, it takes 8.35 years to save for this milestone without any financial help.
Least expensive weddings
On the other hand, some places offer particularly inexpensive weddings. While local wages may suppress the time it takes to save in some of these areas, they have the least expensive weddings by cost. Only Tuscaloosa and Waco also make the top 10 list when it comes to the shortest time to save up.
Tuscaloosa, AL Metro Area
Fort Smith, AR-OK Metro Area
Beckley, WV Metro Area
Gadsden, AL Metro Area
Dothan, AL Metro Area
Hot Springs, AR Metro Area
Carbondale-Marion, IL Metro Area
Pine Bluff, AR Metro Area
Waco, TX Metro Area
Jonesboro, AR Metro Area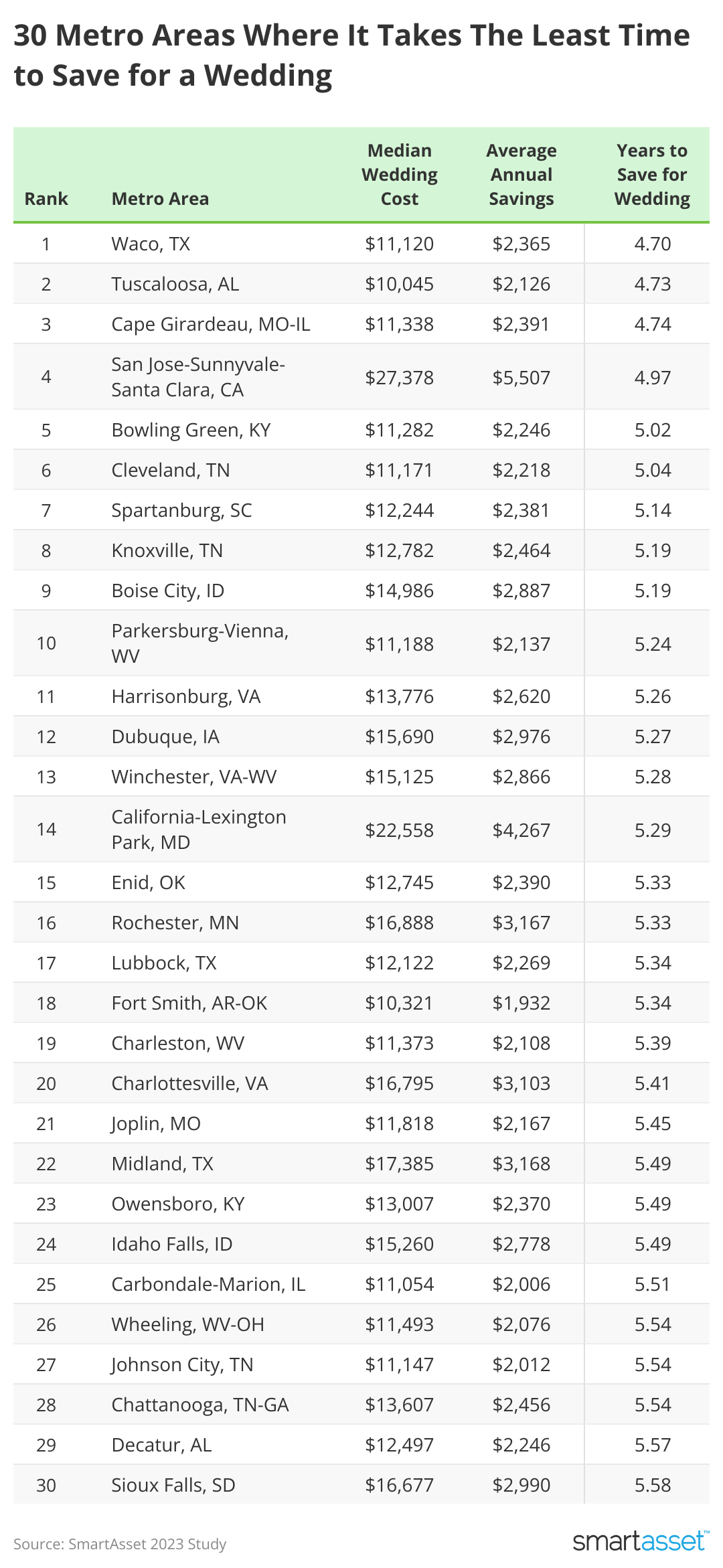 SmartAsset
Cities with the shortest time to save for a wedding
1. Waco, TX
The lack of state income taxes in Texas and a low cost of living will help expedite saving for a wedding in Waco. An average wedding costs $11,120, which will take 4.70 years to save up for on the local household income.
2. Tuscaloosa, AL
Tuscaloosa has the least expensive weddings, sneaking in under Waco at $10,045. However, the average household income is about $6,500 lower at $57,453. This means that couples here will have to save for 4.72 years – slightly longer than in the Waco metro area.
3. Cape Girardeau, MO-IL
The Cape Girardeau metro area ranks closely to Waco and Tuscaloosa. It takes 4.74 years to save for a wedding here. Meanwhile, the cost of living is about 5% cheaper than average.
4. San Jose, CA
The San Jose metro area has the highest wedding costs of all, but the high incomes here help compensate for the costs. A wedding averages over $27,000 in San Jose, but the household income sits at nearly $150,000. So it will only take couples 4.97 years to save for a wedding.
5. Bowling Green, KY
The annual savings for a household in Bowling Green is $2,246. At that rate, it'll take just over five years to save for a $11,282 wedding.
Cities with the longest time to save for a wedding
These places have a particularly high wedding cost relative to the local median income. It takes more than eight years to save for a wedding in these areas.
Goldsboro, NC Metro Area
Binghamton, NY Metro Area
Cleveland-Elyria, OH Metro Area
Lawrence, KS Metro Area
Vineland-Bridgeton, NJ Metro Area
Methodology
The study compared the personal savings rate, median household income and median wedding cost to determine how many years it would take a couple living together to save for a wedding. Researchers assumed that the couple receives no financial help and earns the median household income.
Data
Median household income: St. Louis FRED wage growth data for 2022 was applied to the median household income for metro areas from the U.S. Census Bureau ACS 1 Year, 2021 to derive 2022 household income.
Personal savings rate: St. Louis FRED, 2022.
Median wedding cost: The Wedding Report, 2022.
This story was produced by SmartAsset and reviewed and distributed by Stacker Media.